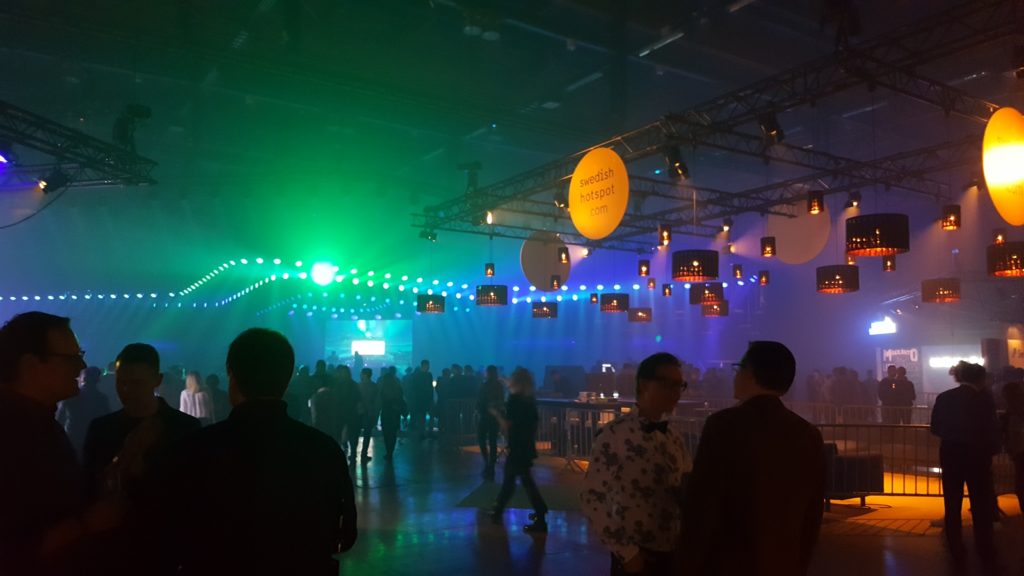 In only four years, Slush has grown to become the largest startup event in Europe. For many in Finland, the reaction to Slush is irrational. Either irrational adoration, or irrational loathing. I've observed the Slush phenomenom from the sidelines with some curiosity. When the opportunity presented itself for me to visit Slush this year for the second day, I jumped at it, only to come away with mixed feelings. I will first discuss my impressions and thoughts about the Slush 2016, and after that present a report of this years' Slush and the Slush.D after party by Reaktor Ventures.
I went to Slush thursday event only representing myself. I had no business objectives and had only scheduled some talks I definitely wanted to see with room for wandering around. This worked somewhat ok. There were some excellent talks as well as quite a few mediocre ones. I quickly realised that the 20min talk really doesn't allow the presenter to go into too much detail. Instead they have to be more like TED talks: present a significant idea in impeccable style. Some presenters pulled this off better than others.
I particularily enjoyed the visions shared by Klarna CEO Sebastian Siemiatkowski. The blockchain round table was a bit of a disappointment, despite having many people intimately working with blockchain technologies, they failed to provide any significant new understanding of the future of blockchain. In addition, I heard some interesting visions about IoT, some inspiring  pitches by the top #4 companies in the Slush 100 and otherwise received lots of food for thought.
The case for Slush
If I were to evaluate the Slush thursday based on the amount of information gleaned, it might not seem like too good of a return on investment (certainly not if I had paid the full price). Especially with the program being streamed for free. The day after Slush, I actually came away a bit disappointed. But the more I have pondered the event, the less I have come to agree with the the denigrating opinions about Slush, worst of which label  the conference a large scale hoax.
First of all, I believe you cannot truly experience Slush if you are not in the startup scene yourself. It is first and foremost about the business. I was not there for business, so I was already missing 50% of the point.
Second of all, I cannot see how Slush could be labeled a failure when it has grown to be the largest startup event in Europe in only four years. It is a masterfully executed event that brings people together from all around the world and as such it is massively successful. Coming away from the thursday event left me very much in awe. It is not hard for me to believe the vision of Management Events founder Olli Muurainen that arranging events could be the next major export for Finland.
Being disappointed that there are not more Supercell-style companies paying their taxes to Finland is not only myopic but simply wrong. Slush has already helped launch companies such as Yousician that are growing and employing people self-sufficiently.
Third, evaluating the talks based on the information content per minute spent is simply wrong. The idea of these TED-style talks is more about colliding ideas. Observing a day or two of high flying but grounded in reality talks about a wide variety of topics is just the kind of building blocks for an informed worldview we need in this day and age of hyper specification both in science and in business.
The afterparty rocks too
Of course the Afterparty rocked too. In my opinion it would've been worth the 95€ ticket cost alone. The bands performing were top notch, as was the venue. The beer was the bulk kind, but that is understandable. I was more than a little sorry for having to leave early into the evening. Unfortunately there have been quite some reports of sexual harassment this year. Fortunately Slush has so far served as an example of how to take this kind of reports seriously.
Slush and Slush.D: A report
How I came to have the slush ticket involved both a bit of luck and some skill.  I took part in a solving a set of puzzles created by Reaktor Ventures, in order to gain access to their pre-party to the Slush afterparty, called Slush.D. I was able to solve the puzzles, which were just the right balance of brain teaser and educational. Apparently quite some people wanted to go to Slush.D and in the end the tickets were drawn lottery style. Luck favored me and  I gained access to the Slush.D. This pass also included the possibility to buy the Slush thursday pass for only 95€, which is 200€ off from the regular price of 395€.
I jumped at the opportunity, although it included taking almost a full day off from work and this is my report from the Slush '16 thursday event, afterparty and the Slush.D pre-afterparty.
This report is based on the notes I took at the event. I used Instagram to take the notes and have expanded on them here. If you are interested, you can find my original notes from my Instagram and as comments to the images and videos.
9.50 – 10.00 Nasdaq Nordic Opening Bell Ceremony
The day started with the ringing of the Nasdaq bell at 10.00. The bell used was from the church of Ylivieska which was burned down almost a year ago by an arsonist.
10.00-10.20 Space nation – a special announcement for the planet
After that, there was a presentation of spacenation.org. In their own words:
Space Nation makes the universal dream of space travel a possibility for everyone. Anyone can become an astronaut, and travel to space. Take part in real world adventures that develop your physical, intellectual, and social skills. The Space Nation Astronaut Program starts worldwide in 2017.
An interesting opportunity for sure. You complete tasks using an app and the people best at the tasks in the app are invited to a physical training camp, from which a single person gets to go to space. It is a collaboration with Axiom Space, which plans to build a private space station first as a module of ISS and after ISS is taken down, as an independent space station.
Interesting stuff and a good start. As alluded by the presenters (and also Reaktor Space representatives in Slush.D), probably all us nerds have wanted to become astronauts when we we kids.
10.20 – 10.40 David Helgason: The tool-powered productivity against the winner-takes-all dynamics of tech
The founder of unity, David Helagson held a rambling talk that never really reached coherence. He discussed tool use, the toolness of various tools (from not much of a tool, say a banana, to a proper tool, say a hammer, to a meta tool, say a computer). Tools were compared to capitalism, in that they can serve both noble and absurd purposes. Ended by talking about AIs and how they don't really care about what they do, optimizing a fitness function to get us to buy more stuff without really caring how they end up manipulating us. Fascinating but lacked a throughline.
10.40-10.55 Will IoT be the path to decode universe
After that came another a bit out there talk, where the founder of SigFox (a company present in 27 countries, so this is not any maniac) talking about using IoT to detect weaker and weaker signals, from Rhinos to plants to DNA. Eventually all the weak signals could be analyzed using cloud computing and big data processing to prove that we live in a computer simulated universe (the notion that most of us probably entertained already in high school philosophy and recently discussed by e.g. Elon Musk). This was more painting visions with a broad brush than anything concrete.
The hosts
The hosts on the Founder stage (the largest stage) were very entertaining and professional. They guy also rocked a kick-ass beard and beautiful man-bun.
10.55-11.20 How to raise above $10M in Europe
Next came a round table discussion about the state of venture capital in Europe, and what it takes to rise above 10 million in capital. By statistics, Europe actually leads US in many significant ways: we have a larger field of STEM students, more developers, so the ecosystem is healthy. In a lot of ways now is a good time to found a startup. It is a lot cheaper to launch a company now, also the network of Angels is a lot better.
The first thing that came up was that raising 10M is a lot different from raising, say, 1M. The due diligence required is orders of magnitude larger, comparable to IPO. Everything needs to be logged to be used for potential analysis. Tons of scrutiny. Also business fundamentals are important. Execution needs to be on point. You need either functioning revenue model or X million users, and X million users may not be enough without revenue.
The the discussion went into relationship with the investors.  It is better to build a relationship with the investors before you need the 10M. Show your progress and it becomes easier to ask for the large round. Also you need to be open about your troubles. Don't try to fake success if you are having troubles. People understand plans do not always materialize, it is better to react in a smart way than to try to force it when it's not happening.
In 10 years, series sizes have gone up. In US alone, funds investing in startups had raised 17 billion USD by Q3 this year alone. So money is there, and if you make a global breakthrough, you will retain global interest.
CEO of Klarna, Sebastian Siemiatkowski, talked about how Europe is more down to earth. It is intoxicating to go to San Fransciso but they are a bit full of themselves there too. People in SF don't find Silicon Valley funny. Also the developer market is too hot there.
11.20 – 11.40 Rethinking energy: Fundamental survival plan for Planet Earth
I missed the beginning of the talk by Pekka Lundmark, the CEO of Fortum. The presentation was quite normal solar and wind future prospects check with some smart battery and smart grid talk thrown in. This self adjusting capacity could work as a virtual power plant during peak hours. It was really nothing we hadn't heard before. The most interesting part was their announcement that Fortum is investing 100-200M into energy ventures (and they were there at Slush already looking at energy startups). They have a large chest of money burning underneath them after they divested from power networks.
Estonia's e-residency
Estonia was there with a large booth, marketing their e-citizenship and ease of incorporation, which gets even easier at the beginning of next year. Currently, e-residents can
Digitally sign documents and contracts
Verify the authenticity of signed documents
Encrypt and transmit documents securely
Establish an Estonian company online. A physical address in Estonia is required to establish an Estonian company. An Estonian address may be obtained via an external service provider.
Administer the company from anywhere in the world.
Conduct e-banking and remote money transfers. Establishing an Estonian bank account currently requires one in-person meeting at the bank. E-residents are not guaranteed bank
accounts and may establish them at the sole discretion of our banking partners.
Access online payment service providers
Declare Estonian taxes online
Largest demographics are finns who own a lot of property and companies in Estonia and far easterners wishing to operate have a company inside the EU. Changes next year will make it easier to open bank accounts without visiting Estonia.
Esa Saarinen, a famous finnish philosopher. I took the photo because of the lighting, only then realizing that it was actually a person of import. To him, it was probably just another person shooting a picture of celebrity.
12.35 – 12.55 Experiences from the road: How will klarna replace the world's credit cards
It's hard to build a coherent narrative for this talk, so here are my notes extended a bit
It is when you make things that are hard that you create value

— Sebastian Siemiatkowski, CEO of Klarna
The original idea of Klarna 10 years ago was to avoid sharing credit cards, which people in Scandinavia were reluctant to do.
Back then people also looked at banking as the career path to be. Nowadays, that has changed as entrepreneurship has become the most pursued or at least lookde up to career.
Entrepreneurship is a putting a positive spin on capitalism in Scandinavia.
The 20% creative time by likes of Google is wasteful habit that companies can afford through large margins.
Europe has traditionally been closer to ground
Problem here has been lack of access to good advice that is ubiquitous in e.g. Silicon Valley
Klarna learned to play the game a little when Sequoia invested in them. Putting aside swedish modesty, they bargained a little before accepting
First christmas was a near death experience for Klarna, they had more orders than they could pay to their merchants. The merchants were understanding and catastrophe was avoided.
Financial services are hard to launch globally. People's money habits are very different and the markets are usually regulated
Future banking ecosystem will be different. Fintech will create massive disruption
There's a battle going on between fintech startups and traditional banks. A legislation proposes to guarantee customers the right to take your data with you as you switch banks.
Banks are lobbying against this very hard
Payments is a trillion dollar business, the margins are very high.
With disruption, margins will go lower and the business will shrink
Klarna is not worried about conglomerates like Alphabet (Google). Spotify is still beating Apple. More worried about startups
Klarna has no wish to go to China. They work too hard there. Working 35 hours super smart cannot compete with people working 80 hours. They have too much gap in experimentation and experience.
Klarna isn't looking at going IPO route. Likes to maintain control and long term planning
13.00 – 13.25 The future of meat
Uma Valeti from Memphis Meats presented the state of articial or lab grown meat. He prefaced by describing how domestication of animals kickstarted culture revolution. He calls the artificially growing meat a second domestication, a domestication of the cells.
Meat Industry knows current meat production is not sustainable. Problems are depletion of water and soil at the same time as demand of meat is doubling. Current way of production is a health risk, mainly due to infection from fecal matter from the bowels. None of this happens with artificially grown meat. Currently 90% of minced meat is infected and 70% of antibiotics in US are fed to animals. This is leading to antibiotics resistant superbugs and cases like avian flu.
With current means of production, 23kcal of grain is used to make 1kcal of meat. This is massively inefficient. Cultured meat is orders of magnitude more sustainable. Meat grown in lab is taken from cells from an animal that can renew themselves.
With current state of the art production methods, people cannot tell the difference between lab grown meat and regular. The next goal is to lower the costs.
This talk was interesting as I've been pondering my own relationship with especially beef. Not necessarily from an animal rights perspective, but rather from the sustainability point of view. The talk by Valeti gives me hope for the future, but also gently nudges me towards also lowering my beef consumption in the meanwhile.
Slush.D
Slush.D was a pre-party to the Slush afterparty. It was well organized but after a long day, already more fun-focused than strict business. There were a few talks, first about IoT in space (really an overview of what Reaktor Space does with minisatellites), the second about AI and storing machine learning models, and the third about how to get hired by the company of your dreams (a combined tutorial and pitch for devs to come to Reaktor).
The talks were interesting but brief. More time was spent enjoying the free food, beer and listening to Teflon Brothers.